The EOS R is Canon's first mirrorless full-frame camera and comes with a brand new RF-mount targeted to mirrorless consumers.
Quick overview
Even when it was unveiled, rather than revolutionary, the Canon EOS R seemed traditional. It is a brilliant design proof, with excellent features like the new Control Ring and M-Fn Bar, and provides practical improvements to current EF and EF-S lenses. Although it contrasts well with a DSLR, its cropped 4K footage and lack of stabilization of the picture in the body put it squarely behind its rivals Canon, Nikon and Panasonic, and now it is also facing competition from the cheaper EOS RP.
Pros
Great control customization
Dual Pixel AF with 5,655 AF positions
Fully articulating screen
Cons
No in-body image stabilization
Cropped 4K video
Single SD card slot
Key Specifications:
Sensor: 30MP full-frame sensor with Dual Pixel autofocus

CMOS, 36 x 24mm

Image processor: Digic 8
AF points: 5,655 Dual Pixel AF positions. Autofocus rated down to -6EV (with F1.2 lens)
ISO range: 100 to 40,000 (exp. 50 to 102,400)
Max image size: 6,720 x 4,480
Metering modes: Evaluative, partial, spot, centre-weighted
Video: 4K UHD at 29.97p, 25p, 24p, 23.98p. UHD 4K 30p video from a 1.8x crop of the sensor
Viewfinder: EVF, 3.69m dots OLED viewfinder, 100% coverage
Memory card: SD / SDHC / SDXC
LCD: 3.15-inch fully articulating touchscreen, 2.1m dots
Max burst: Up to 8 fps shooting (5 fps with continuous AF, 3 fps 'Tracking Priority mode')
Connectivity: Wi-Fi, Bluetooth, NFC
Canon Log: 10-bit 4:2:2 over HDMI or 8-bit 4:2:0 internal
USB charging: with some chargers
Size: 135.8 x 98.3 x 84.4mm (body only)
Weight: 580g (body only; 660g with battery and card)
Canon EOS R Review
When did this camera come out?
Shortly after the release of Nikon's first full-frame mirrorless cameras, the Z7 and Z6, the device hit the store shelves in October of 2018
We offer a full overview of the key specifications and functionality of the camera in this Canon EOS R Report.
Canon EOS R hands-on first look video
Canon EOS R summary
The Canon EOS R has 30.3 megapixel CMOS sensor and a DIGIC 8 image processor. That mix allows for an ISO 100-40000 native sensitivity set that can be expanded to ISO 50-102400.
Moreover, the Canon EOS R sports a dual pixel CMOS AF system that uses 5,655 selectable points for smooth and accurate autofocus, rapid continuous shooting to 8 fps, and 4 K video recording capability.
In all light conditions, the camera works well. The focusing device is robust down to EV-6 together with a wide range of ISOs, so it won't lose sight of the target even in a very dark environment.
The EOS R utilizes an OLED electronic viewfinder with a high-resolution 3.69m-dot. As with mirrorless cameras, an electronic viewfinder helps you to see precisely how the image looks before recording, including all adjustments including brightness, white balance, and so on.
In addition, the camera has a compact 3.15-inch Vari-angle LCD that allows shooting from different angles simpler, but at the top of the device there is also an LCD panel that provides useful camera settings detail.
The Canon mirrorless EOS R requires 30fps to film 4K footage, but the 1.8x crop is not appealing to many consumers. You can either crop or not crop the full HD video at a limit of 60 fps.
The other aspect about this device that isn't so good is that it only requires one SD UHS-II card slot that can contribute to very stressful situations should you have a card malfunction.
The extra drawback is that as most of the cameras in its class do, the EOS R does not have in-body stabilization.
New Canon RF Mount
Along with launching the first full-frame mirrorless model, Canon also introduces the RF lens mount and four new lenses.
The new mount has the same diameter as the EF-mount but with a shorter flange back distance. It was designed and optimized for the EOS R camera, but it also gives us a hint that Canon is preparing new mirrorless cameras in the future. Canon's new RF mount preserves the original 54mm diameter of the EF mount, and reduces the flange-back distance from 44mm to 20mm.
There are four new lenses at the moment – the Canon RF 35mm f/1.8 IS Macro STM, RF 50mm f/1.2L USM, RF 24-105mm f/4L IS USM and RF 28-70mm f/2L USM.
What is good is that you can still use the existing EF and EF-S lenses with full compatibility and no loss in performance with EOS R System adapters.
Canon claims that this combination of 'short and wide' in a lens mount, as we have learned from other manufacturers, opens up new possibilities when it comes to lens design (especially for faster maximum apertures or wide-angle options). The latest mount also comes with a 12-pin attachment to enable the camera and lens to interact more easily.
Canon also claims that the new RF mount was designed with durability in mind as well. The RF mount should be faced with the same kind of violence the EF mount has had for decades. They also claimed that on any RF-mount bodies there is no provision for mounting EF-M lenses.
See what Peter McKinnon thinks of the EOS R system in the video below.
Peter McKinnon Canon EOS R review
Lenses
The new lens developments introduced by Canon with the EOS R are evidence of the potential benefits that the RF mount provides. The outstanding performers are the 28-70 mm F2 L USM, 24-105 mm F4 L IS USM, 50 mm F1.2 L USM and 35 mm F1.8 Macro IS STM.
Canon claims it considers a trio of considerations when developing each modern RF lens: compact size, enhanced optical efficiency, better operating requirements. Canon focused on the latter two considerations in the development of the 28-70 mm F2 L USM targeted at more professional users. Canon leans more towards compactness with the 35 mm F1.8 Macro, a more general-purpose lens. As the lens array fills up, we foresee a wide range of lenses to start to be seen for a wide range of applications and use situations.
A change to full-frame mirrorless is not just a way to produce smaller camera systems. In other terms, Canon does not see a move to full-frame mirrorless as a means of producing smaller overall systems. What the device will deliver in terms of functionality, usability and function, as well as balancing different combinations of different uses and customers, is more essential.
It's also tempting third-party lens makers, with the news that Samyang has released two RF Mount versions of its 85mm f/1.4 and 14mm f/2.8 manual focus primes. This will widen the lens choice for EOS R adopters.
One bit of good news is that Canon has committed to a strong RF lens roadmap and is delivering on time.
We've seen and reviewed the promised new Canon RF 24-240mm superzoom and the exceptional Canon RF 85mm f/1.2 .
One of the ways Canon's initiative has the advantage over Sony and Nikon's is in ISO output and low light. The EOS R has a wider ISO rating of 100 to 40,000 (expandable to 50 to 102,400) and has a higher overall signal-to-noise ratio. It is also capable of auto-focusing down to-6EV, rendering this excellent in low-light situations for shooting. If you're loving photos at night or taking a lot of weddings at dimly lit venues, this might make a real difference.
Enhanced Connectivity
The EOS R has built-in Wi-Fi and Bluetooth for remote control like most modern cameras.
There are also a microphone and headphone inputs, USB-C connector device allowing easy charging without removing the battery from the camera, GPS technology, and 10-bit HDMI output.
Canon EOS R Video Quality
The good news is that the EOS R comes equipped with C-Log and can capture 8-bit with Rec internally at 4:2:0. 709 color space and 10-bit outside with Rec at 4:2:2. 2020. Welcome to the future. The bad news is that you can only fire 4K (UHD) up to 30fps and 1080p (FullHD) up to 60fps; you have to go all the way down to 720p (HD) if you want to film at 120fps. Nonetheless, the real kicker is that 4K arrives with the same 1.7x crop that the 5D Mark IV is affecting.
Canon EOS R vs Sony A7III camera test video
Canon insisted that this allows the sensor almost the same size as the Cinema EOS series, which gives a similar perspective to Super 35, meaning the video can cut with something like a C200 smoothly. And while the 1.7x crop ensures that your RF so EF lenses are not going to be almost as large (a 24 mm lens is 40.8 mm), you can always use EF-S lenses like the 10mm-18 mm f/4.5-5.6IS STM (which becomes 17-30.6 mm). None of which changes the fact that the video features of the EOS R for a camera at this level are not up to 2019 expectations.
Canon EOS R Price
The Canon EOS R price with the RF 24-105 mm F4 L IS zoom lens is about $1,500.00 (body only) or $2,400.00 with.
For a highly capable full frame mirrorless camera that's practically brand new on the market, that's not a bad price at all if you ask me. This device has plenty of apps to be enthusiastic for, and certainly a few items that need improvement.
Yet still, the Canon EOS R is a solid choice if you're looking to invest in a new mirrorless full frame camera.
Canon EOS R: The verdict
Featuring excellent features such as the new control ring and M-Fn Bar, the Canon EOS R is a brilliant proof of concept and promises practical enhancements to current EF and EF-S lenses. Nevertheless, while it contrasts well with a DSLR, its cropped 4K, reduced 60 and 120fps, and lack of stabilization of the picture in the body put it squarely behind the full-frame mirrorless bodies of Sony and Nikon. This is obviously just the beginning for Canon, though, as the introduction of the affordable EOS RP, the announcement of new lenses and the ongoing development of a high-resolution 8K version indicate that the EOS R series will be a major force in the future. The only problem is, how far will this go in the future?
Key takeaways:
The new RF mount is the same width as the EF mount, but less than half as deep
A new 12-pin connection allows for faster data transfer
Canon claims the RF mount is just as durable as the EF mount
The current lineup of RF lenses looks optically excellent
The M-Fn Bar is a completely new control point for Canon cameras
C-Raw reduces file sizes by 40% without noticeable image quality loss until you push your image by several stops
Dual Pixel AF is available while recording 4K video, but there's still a severe crop
Alternatives to Canon EOS R
Canon EOS 5D Mark IV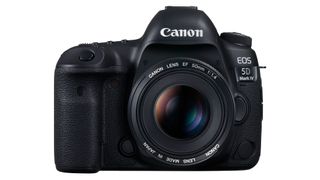 The nearest Canon rival to the EOS R is the 5D Mark IV. The DSLR equivalent has an extra slot for the memory card, but otherwise its specifications are broadly similar, rendering the EOS R a great addition or substitution.
Nikon Z7
Nikon's latest mirrorless pro camera scored clear fives and outperforms the EOS R in every segment–though you'd definitely imagine it to be for an extra grand.
Sony A7R III
Sony's new mirrorless king costs only $500 more than the EOS R, but in addition to a more pixel-packed screen, it offers five-axis IBIS and uncropped 4K. Sony's program was around long enough to give a serious range of lenses, rendering it a very convincing choice.